News Archive
June 29, 2014
New Collection - J.A. Ranch, Douglas County, Colorado
Buffalo at J.A.Ranch

As a fundraiser for Douglas Land Conservancy, I and several other artists were invited to visit private properties in southern Douglas County near the Dawson Butte Open Space. The J.A. Ranch offered amazing views of Pikes Peak, Sleeping Indian and Larkspur Butte.

View the J.A. Ranch Collection




For more info or purchases:
June 8, 2014
New Collections - Mesa Verde and the San Juans
Buffalo at Cliff Palace

This latest collection comes from the Rims To Ruins plein air painting event at Mesa Verde National Park, May 15 - 17, 2014. This year they welcomed 25 nationally renowned artists who had the opportunity to hike into exclusive areas of the park. This fundraising event enables the Mesa Verde Foundation to support many projects in the park.

The second part of Rims To Ruins will occur in Denver in November at the Wildlife Experience Museum. Here, additional works from the May plein air paint out, along with works from several other participating artists will be for sale.

View the Mesa Verde Collection




I also took the opportunity to paint along the way throughout the San Juans including areas around Ouray, Ridgway, Silverton and Pagosa Springs.




For more info or purchases:
Apr 13, 2014
New Collection - Islamic Architecture
| | |
| --- | --- |
| Mosque of Mohammed Ali | I think some of the BEAUTIFUL ARCHITECTURE in the WORLD is ISLAMIC in nature. A DOME surrounded by SPIRES [ minarets ] is from a DESIGN point very STUNNING. |
Jan 13, 2014
New Collection - Aspen in Colorado 2013
| | |
| --- | --- |
| Maroon Bells (2013) | My GOAL was to spend most of my time at THE MAROON BELLS near ASPEN. I traveled colorado highway # 24 from COLORADO SPRINGS, passing by BASSAM PARK, BUENA VISTA, up to TWIN LAKES over INDEPENDANCE PASS to ASPEN. I passed by a lot of MOUTH WATERING SIGHTS [ WATERCOLORIST TERM ] & also painted THEM! |
Nov 26, 2013
Buffalo Wins Award
Buffalo Kaplinski is the winner of this years SUPERINTENDENTS AWARD at the Fifth Annual Zion National Park Plein Air Invitational.
Check back soon for new Zion and Colorado Fall paintings.
Dev 8, 2012
In the Footsteps of Thomas Moran:
[Beyond Reality - (San Martin Trail)]

Watercolor Paintings of Iguazu Falls


In June, 2012 Buffalo traveled to one of the most beautiful places in the world. Read his essay on Iguazu Falls.

Just added: Iguazu Falls Collection. Plein Air watercolors from Iguazu Falls, Brazil & Argentina.


[Best of Show 2011]

Colorado Mountain Plein Air Festival


September 15 - 22 Salida/Buena Vista

Buffalo was Best of Show winner in 2011 and will be judging this year's entries.

Buffalo is offering a watercolor/acrylic workshop September 20. All day, $125.

Read more about the
Colorado Mountain Plein Air Festival.





In the Footsteps of Thomas Moran:


Zion National Park Plein Air Artist Invitational. The event will be held November 4 - 12, 2012.

Buffalo will be performing free demonstrations on Sunday November 11.

The painting at left is from the book: A Century of Sanctuary: The Art of Zion National Park.

Read more about the
Forth Annual Plein Air Artist Invitational at Zion National Park.
2011 Fall Collection - Colorado!
This is a collection of my Plein-Air watercolors done mostly in September and October, 2011. Colorado still is one of my favorite painting locations. If you venture out, you know why I love it here!


For information and prices on any of these works:
email: or call (303) 646-4062.
West SouthWest Gallery
is featuring
New Works of the West
by master watercolorist
BUFFALO KAPLINSKI
West Southwest Gallery
257 Fillmore St, Denver
In the heart of Cherry Creek - 303-321-4139
New paintings - The Cosmic Series!
For a number of years I've been intrigued by the images of the cosmos with views from the Hubble Telescope. If you've seen the images they are spectacular to behold. They really lend themselves for an artist (me) to be inspired to interpret them in watercolor.



For information on any of these works:
email: or call (303) 646-4062.

Read Buffalo Kaplinski on "The Art of Seeing"
Buffalo in India




"A note on our driver Jack, a very nice person - he caught on to what subjects that I wanted to paint and took me to the best locations - he invited us over for dinner to his house..."



Read the entire 3 part India Travelogue.

And of course, the resulting series of stunning watercolor paintings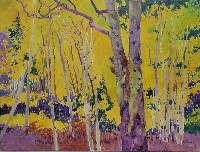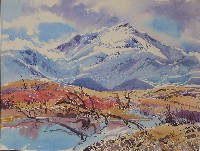 New Southwestern Paintings Are Here from Colorado and Zion National Park
Check out more India and Southwestern paintings
at the West SouthWest Gallery
in Cherry Creek, Colorado.

Get info on the book: Passionate Landscape.