FALL COLOR COLLECTION of COLOR SATURATION 2020
View the full-size gallery of these paintings.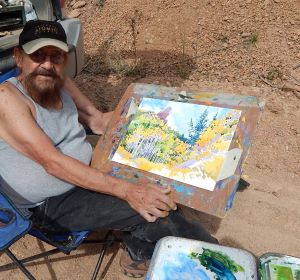 This collection of FALL PAINTINGS was the result of about a month of work & i'm just worn out from the physical endurance it takes lugging water around , painting equipment in & outta the truck , cleaning up mixing pans etc . hard work ; but would'nt trade it for anything .
i made a trip down to WOODLAND PARK for a couple of days , a trip up to GEORGETOWN [Guanella pass] a couple trips to CASTLE ROCK [only 8 miles from here in ELIZABETH] & my own driveway !
When i was near WOODLAND PARK went over to the RAINBOW VALLEY road which goes to CRIPPLE CREEK & the COLORS were SUPERB . i had an experience that has never happened in my 50 years of PLEIN AIRING ! i saw this dirt road that was right by a aspen grove that was RADIANT YELLOW . you must try to see the best view & i drove down road at bottom of the hill i see some dude on a very big ATV [ all terrain vehicle ] & in my mind i think - " there's trouble " . i turn around & go on hill find a perfect spot to paint & pull over , so people can pass me . i'm setting up & have everything in place & the guy on the ATV comes up hill & aggressively asks me - " what are you doing ? " i doing a painting & in 2 hours come back & you can see it ! he then says " that sounds suspicious to me , no one has ever done a painting here before " [ we all know CRIMINALS do WATERCOLORS to divert attention after a robbery ] he then says we've had break ins here & maybe you're casing the neighborhood " then he says " i'm gonna take a picture of you license plate " and he does [ remember i'm trying to do a watercolor & i don't need some asshole bugging me ] i say come back in 2 hours - he said " i'm not coming back ; but the SHERIFF will " so he leaves
Then another guy pulls up in a HARLEY & starts talking telling me his girlfriend is an artist too , BLAH BLAH . he finally goes & for 2 hours i work & then i hear a car stop & the door slams - it's a SHERIFF'S deputy [TELLER COUNTY ] DEPUTY BRANDON BLANCHARD says HELLO , i see you're doing a painting - good use of CADMIUM YELLOW & DIOXAZINE VIOLET for the shadows , is that a cold press paper ? [ just kidding ]. We make small talk - really nice man & i ask him if he died where he'd spend eternity & does'nt know ? so i give him a CHRISTIAN MESSAGE [ a tract ] & we part company . what an experience ! enough of that here's the PLEIN AIR PAINTINGS.