Aspen in Colorado Autumn 2013 Series
THESE are all PLEIN AIR WATERCOLORS meaning done on location not in CONVENIENCE of STUDIO with HEAT , PREDICTABLE LIGHTING , COFFEE POT , NO BUGS. The WATERCOLORS are done on TRADITIONAL PAPER & a few on CANVAS [ SPECIAL SURFACE ]. My GOAL was to spend most of my time at THE MAROON BELLS near ASPEN. I traveled colorado highway # 24 from COLORADO SPRINGS, passing by BASSAM PARK, BUENA VISTA, up to TWIN LAKES over INDEPENDANCE PASS to ASPEN. I passed by a lot of MOUTH WATERING SIGHTS [ WATERCOLORIST TERM ] & also painted THEM!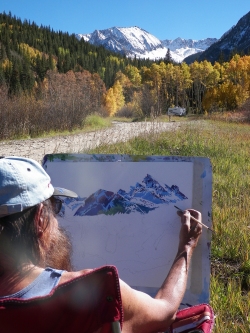 Doing PLEIN AIR of THE MAROON BELLS is an ultimate challenge & a most superb subject. A lot of people go there especially doing AUTUMN to see the aspen trees in lavish displays of CADMIUM YELLOW, HANSA YELLOW & CADMIUM RED! All this color against snow covered peaks of blinding WHITE & COLBALT BLUE SHADOWS! WOW - a ROCKY MOUNTAIN HIGH! I had painted for 2 days solid at "the BELLS" - this is PRIME VIEWING TIME & LOTS of VISITORS - LOTS! The place where I painted wasn't too far from parking lot & really not a killer hike! I prefer NOBODY around and sometime you have to just ignore circumstances.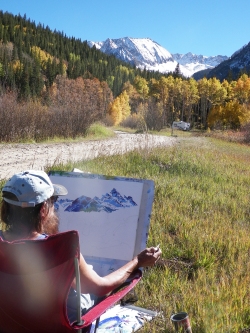 Most people were polite who passed by & no PROBLEMS - i did get tired of hearing CAR DOORS slam & parents telling their kids things or some gibberish in background! i was still wanting to paint "THE BELLS" but had to get a QUIET SPOT & i found one a couple of miles away on a pulloff! GREAT - NO CARS, QUIET, GREAT VIEW, EXCELLENT LIGHT! In front of scene was a big pond that MAROON CREEK ran into! REFLECTIONS of COLORS - WOW! So i got my WATERCOLORS OUT & started to PAINT!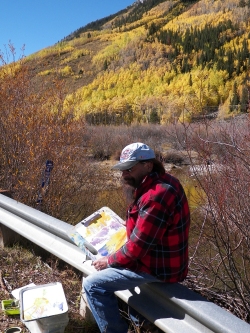 Then - i start to hear CAR DOORS SLAM! WHAT? As i was PAINTING, 3 MOOSE had wandered in & people were going NUTS to see them! Cars were even DOUBLE PARKED to see the MOOSE! I had made the WRONG DECISION - more people were there than i could have imagined! While i was painting - some LADY said "LOOK at those ANTLERS" i looked up for a second & SAW her, my thoughts were CARNAL & wasn't looking at mountains but her! Later after i was finishing up a big BLIMP of a man with CAMERA on TRIPOD asked "how many MOOSE are there?", "what do MOOSE EAT?" [ ask the PARK RANGER BUDDY ] and the TOPPER, as i was finishing up PAINTING - "YOU'RE OFF to a GOOD START" he just got out of INTENSIVE CARE YESTERDAY! One lady from TEXAS asked if those were ELK? When an ARTIST goes out PLEIN AIR - ANYTHING can HAPPEN!