Islamic Architecture Paintings
View the Islamic Architecture Collection.
I think some of the BEAUTIFUL ARCHITECTURE in the WORLD is ISLAMIC in nature. A DOME surrounded by SPIRES [ minarets ] is from a DESIGN point very STUNNING. I have been to 4 ISLAMIC countries and what I saw in ISTANBUL & JERUSALEM was MOST BEAUTIFUL. The ARABS call JERUSALEM, AL - QUADS, a city SACRED to JEWS, MOSLEMS & CHRISTIANS. There's still a lot of disagreement on who controls what & history is very awesome. The MOSQUE called "DOME of THE ROCK" [ QUBBAT AS SAKHRAH ] is STUNNING. The dome itself is not gold but an ALUMINUM BRONZE ALLOY. The BLUE MOSIACS of the building are EYE GRABBING.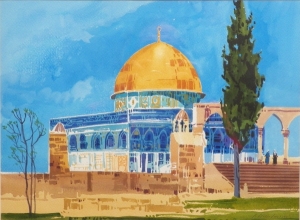 Dome of the Rock - Qubbat As Sakhrah
In this COLLECTION of WATERCOLORS & ACRYLICS are a few PAINTINGS of other SUBJECTS that were done in my travels to JORDAN, EGYPT, MOROCCO & TURKEY. I found that the MOSLEM people were FRIENDLY, POLITE and ARTICULATE in my TRAVELS.
View the Islamic Architecture Collection.